lørdag den 25. feb. 23
The mayor of Rudersdal Municipality, Ann Sofie Orth, visits BG and BIGMUN
BG recieved an important visit from the mayor of Rudersdal Muncipality,Ann Sofie Orth, who came to see and experience BIGMUN. Article written by Therese Karoline A. Helander, 2u.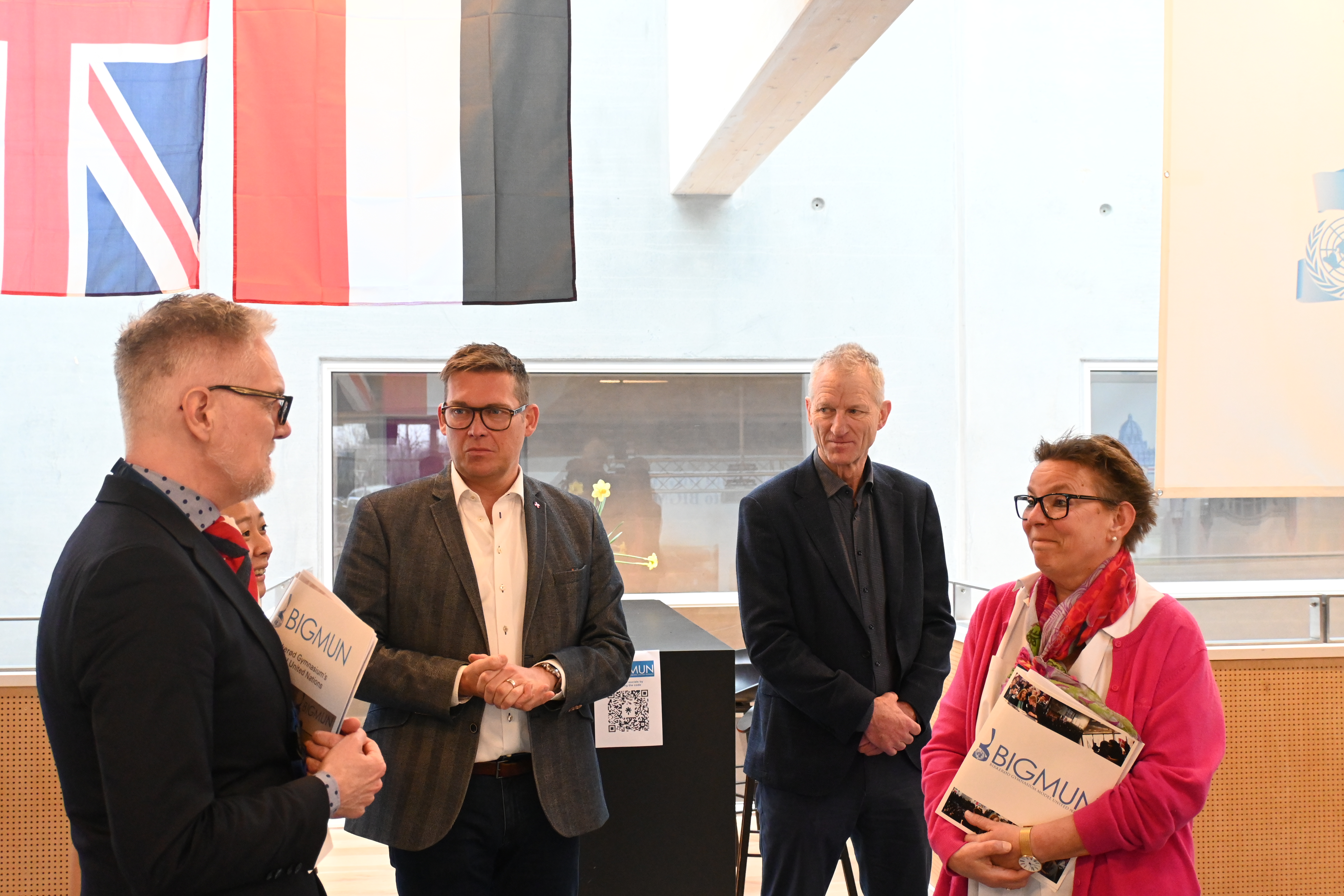 It's not every day that Birkerød Gymnasium's international conference BIGMUN takes place with such grandiosity; in fact, it is the first time in over three years that it has been possible to arrange such an event since the outbreak of Covid-19. In addition, it is not every day that the conference attracts as much attention as it has this year. With the guest speakers Anders Ladekarl (Secretary General at the Red Cross), Michael Zilmer-Johns (Head of Protocol in the Ministry of Foreign Affairs, formerly ambassador) and experts present for Thursday's Ukraine-Russia panel session, the days have been packed with incredible learning experiences and students committed to broadening their horizons. But it was still to everyone's great surprise when it was announced Friday morning that the mayor would pay the school a visit.
The mayor was greeted by BG's principal Claus Campeotto, Board director Frank Edelmann Christensen, Conference coordinator Andrew Archer and BIGMUN's Secretary General Katherine Noriega. The mayor was then given a guided tour around BIGMUN and was introduced to the overall concept. The tour ended with a visit to the BIGMUN Security Council, where the mayor witnessed the student delegates engaged in a lively debate on the topic of the Russian-Ukrainian war and the question of sanctions against Russia.
The mayor was equally impressed by this year's BIGMUN theme, "Power in Unity", which has undoubtedly been emphasised in many ways since the opening ceremony on Wednesday. Despite different nationalities and attitudes, the committees are working to devise solutions to relevant and essential political dilemmas. In addition, a whole team of staff ensures that the conference runs smoothly, as well as a dedicated press that produces a daily newspaper covering the day's events and discussions. It was, therefore, obvious to ask Ann Sofie Orth how her work as mayor could be related to theme in question, to which she replied:
"I think that as mayor it is very much about uniting us in Rudersdal; about giving people the opportunity to do things in the local community where they have their lives and where they have their families. Of course, many people in our area also have their work, their jobs either here or somewhere outside Rudersdal. But at the end of the day, the place you live is the place your world kind of revolves around." According to Orth, it is also imperative that we engage and include everyone. She acknowledges that Rudersdal is one of the more affluent municipalities, but that it is still important that we are "attentive to those people who are not in that position, but who still live in our community." She adds that we must become better at helping those who struggle daily with mental problems, chronic illnesses or a burdened background.
But it can be challenging. Because as many people during BIGMUN have discovered after several busy days, there are only 24 hours in a day, and you can't always achieve everything – not even if you want to. The mayor, therefore, emphasises that you can only do as much, so as long as you're doing your best, that is more than enough. Those words were taken to heart by many of the dedicated young people during the conference, as they have taken on the responsibility to find solutions in unity.