onsdag den 15. nov. 23
Birkerød Gymnasium presents this year's musical: "Let the Sunshine In".
This year, the musical atmosphere returns to Birkerød. The students at Birkerød Gymnasium perform the performance "Let the Sunshine In," a musical that weaves relevant themes into a new story with well-known songs and characters.
The young lion Ronja does not want to carry on the traditions of the lion pack and take over the power from his father, Alex, the Lion King. She is disgusted by the life of hunting other animals and longs for a different way of life. She finds that when she and the young hyena Simba discover Slaraffenland, which lies in the jungle. Here, a group of animals, led by the baboon Rafiki, have adapted in a completely new way in a society where there is room for everyone and where no one eats each other. But can Ronja and Simba persuade their respective packs, the mortal enemies lions and hyenas, to put the fight on the shelf and surrender to a life of community, fruit and vegetables?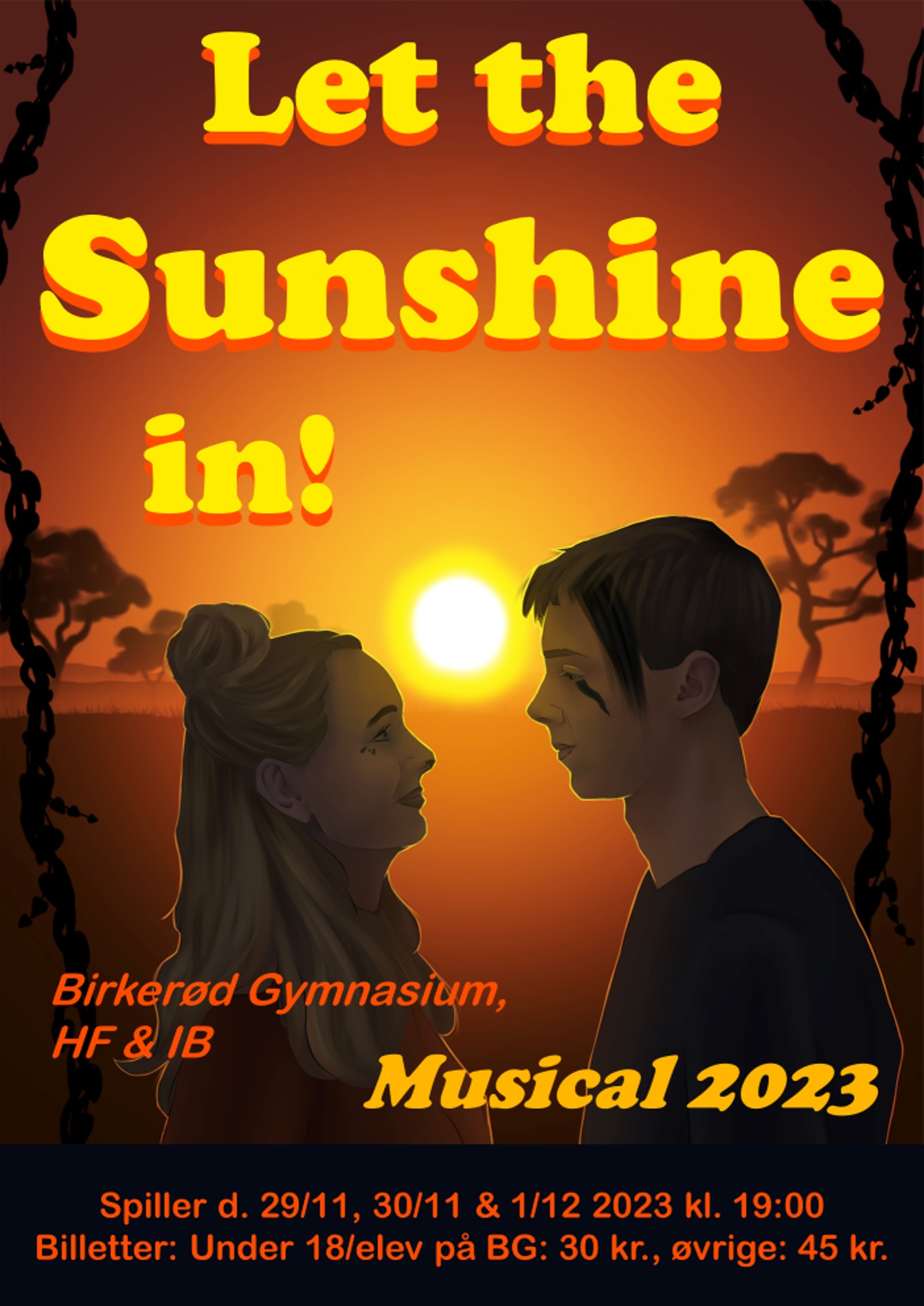 An exciting process
Work on the show is well under way. The schedule for the participating students includes weekly rehearsals with, among other things, acting, dance, music, costumes, scenography and props. All groups on and behind the stage struggle to create a great performance. It is the first time after the years of Covid-19 that BG is putting on a musical, and we are looking forward to resuming an important tradition at the school. At the same time, the performance tackles relevant themes around times of crisis, consumption and awareness of our own imprint on the world.
"It is a great way to be part of a welcoming community! We had a practice where we had to come in on a Saturday, but it was surprisingly very fun and chill. Personally, I'm very excited to see the dancers' performances during the final performance." Rafa Shaikh, 2u, the backstage team.
The performance premieres on Wednesday 29/11 at 19:00 with additional performances on 30/11 and 1/12. Tickets are sold at the school from 22/11 to 29/11 and at the door at the performances, as long as seats are available.
The teachers in the creative subjects at the schools in the local area have also received an invitation to the dress rehearsal 28/11 with the possibility to bring students, as long as there are places, contact Stine Helth, st@birke-gym.dk
We look forward to seeing you at the show! The performance's student-run press team.